UPDATE>> Traffic Dashboard was a membership site by Kim Roach who is a top blogger. It has now been upgraded into Traffic Live. Learn how to get 5000 visitors in 30 days!
Kim continually gives great value and by reading her blogs and watching her videos I have picked up some awesome tips!

Kim's product, Traffic Dashboard had 20 of her ultimate methods to get traffic to your website. The strategies she teaches are pretty unique.
The methods she teaches are accompanied by a video which walks you through a step by step process.
She will explain an online marketing technique via the video and then will provide actual proof of the results she has achieved by implementing this particular strategy.
It is as though Kim is there in the room with you explaining each step and this approach provides excellent training for an online marketing newbie.
One of her examples she reveals is in her Ebook syndication method where you see her creating an Ebook from scratch and then goes through the sites she has submitted it too.
You will get to see the actual Ebook she created and following this review the traffic stats from the online marketing techniques she uses.
In my initial Traffic Dashboard review I found the product to be unique and user-friendly. If you are an online marketing newbie you will find the step-by step approach very useful.
Even if you are an experienced online marketer but frustrated with your current marketing efforts you will find it useful too!
You may need some "refresher" training. Let's face it, we all get stuck in the same mode of thinking and doing the same things day in and day and wondering why the nothing changes…we possibly need a new insight. Traffic Dashboard certainly provided this in bucket loads!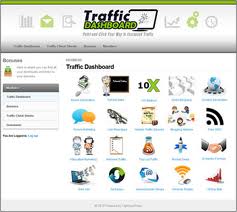 To get the best out of the Traffic Dashboard you had to follow through on the methods being taught and methodically go through each one step by step.
Time needs to be taken to fully understand the concepts being taught. It is no rush…take the time to understand the teachings.
Great thing too is the trainings are done by video so you can pause any step which you feel you did not understand and go through it again.
Because the methods are so unique, you will find that you are embarking on a training program which is less saturated than other programs currently on the market.
This will put you in an excellent position to dominate a particular niche of online marketing. This can only bode well for getting superior high quality traffic to your website…which is the ultimate aim!
Traffic Dashboard was a product of premium quality and unlike any other on the market. Kim took the time to put together an outstanding training program with the new online marketer in mind.
UPDATE>> Traffic Dashboard is now closed but Kim has created Traffic Live. With this new program you will be walked step by step through marketing methods which potentially can generate 5000 leads in 30 days.
That's a pretty tall feat to achieve but if you are looking for someone to show you just how to do this then look no further than Kim.
Highly Recommended 8/10