Blogging is not easy. Many who start a blog and begin on this journey usually begin with a copious amount of enthusiasm and then over time that same desire wears away.
So just why does this happen? Well, I believe it is because blogging is a life time commitment. It's like your own personal diary for the whole world to see.
When you start a new blog you have to leave yourself open to everything. You may write posts which open up discussions and get people thinking. This leaves you open to criticism too.
But who really cares. The whole point of blogging from a personal standpoint is to say what's on your mind and share with people your thoughts.
If you are building an online business and looking to monetize your blog then you may have to tread more carefully as to what you say on your blogs.
In saying that, you can begin to get a community of readers who like what you say and this may set you apart from other bloggers.
Start A Blog And Accomplish Many Things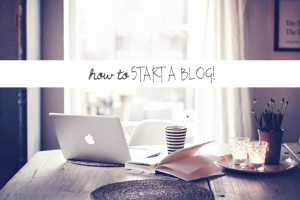 Blogging can bring many rewards on a personal front. It's not all about the money. Yes money is nice to have and most of us strive to live comfortable lives in economically challenging times. But money is not everything. You can accomplish many other things too.
The main aspect is to share value and build a community of people interested in what you have to say. The loyal website visitors will just keep coming back for more when you develop your own unique personal brand.
Branding is so important when you start a blog. People have to know who you are. It's all too easy to hide behind a blog. I am guilty of that when I started blogging and to a certain extent I can still be found hiding behind a blog.
When you start a blog you have to say this is me and this is what I stand for. People will like you all the more when they get to know you. If you are a social animal and great on social media then blogging may come easy as you will find it easy to share your content.
Start A Blog And Write Content
Writing content is another major feature of building a successful blog. This may or may not come easy for some people. If you find it a challenge to write then read up on other blogs and see how they write. Look at their technique and learn.
Blogging can be a way to make friends and build long term relationships. You may find that you learn from other bloggers and enjoy reading their content.
There may come situations when you can guest blog on other blogs and likewise allow other bloggers to write posts for your own blog.
When you start a blog there are a few things to consider but once you start building out your blog with fresh new content you will get into the swing of things and over time have a wonderful blog to share with a loyal readership.