I started this blog back in Jan this year and a couple of days ago I checked to see how it was ranking on the Google page rank. To my surprise I found that my blog had a page rank of 2.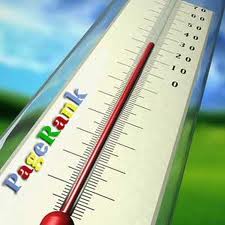 You may not of heard about page rank but it is a link analysis algorithm that Google uses to put a numerical weighting to site pages on the web. The sole purpose is to measure the importance of your site amongst other sites.
Google will page rank your site from 0 – 10 in terms of how well they think your website is doing. All newly created websites start out with a page rank of 0 and the top sites can have a page rank of 10. If your site has a page rank of 10 then Google will adjudge your site to be highly important.
Achieving a top page rank goes hand in hand with how much traffic you are getting to your website. So if you have a page rank of 10 then you can be sure that your site is getting a solid supply of traffic on a consistent daily basis.
The easiest way to see the page rank of your own site and competitor's sites is to install the Google page rank toolbar. This can be done for free. By doing this you will see the page rank of every web page that you visit.
The main aim of all online marketers is to drive highly targeted traffic to their websites on a consistent basis. This will help to improve your site's page rank and also help to get better search rankings.
Many online marketers are looking for a quick way to increase their site's page rank but this can take time. It requires the right consistent activity and there will be times when it may be better to enlist the help of a reputable seo company or online marketing consultant to do the work for you.
Google does enable the public to see their algorithm which will show what factors they use in determining page rank. A key factor is the websites that link to your own sites. Websites with high quality by age, content and also reputation as seen by Google will undoubtedly increase your site's page rank.
It is important to note that page rank is never static and it can alter every 3 months or so. Sometimes, Google can do a major algorithm change which can dramatically change where your website ranks in the search results.
The best way to ensure that you site gets a high page rank and does not suffer through any major algorithm changes is to ensure that your follow good seo practices and keep updated with any new seo practices.
As mentioned above, it may be in your best interests to use a reputable seo company or online marketing consultant/consultancy. There are many reputable seo companies and online marketing experts available so it is well worth taking the time to research the best ones. Over the long term this will be beneficial for your search ranking results.
The key is to drive quality targeted traffic to your website so any time, effort and financial investment that you apply to this aim will be well worth it.