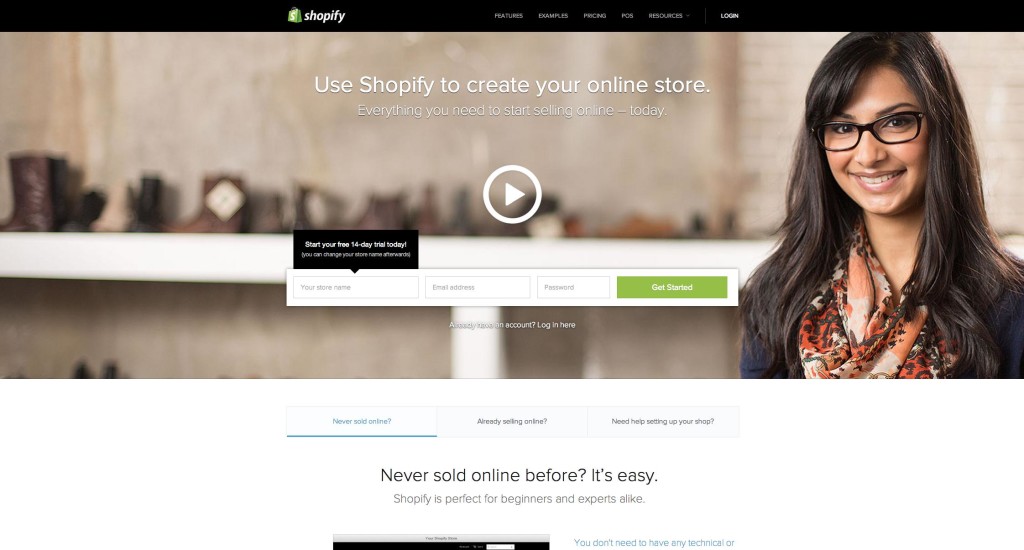 Shopify eCommerce software is one of the leading platforms for building an online store. If you are looking to sell your products online then look no further.
The main feature of Shopify is it's simple interface. The add-ons are immense for a shopping cart software. It must rank as having the most.
The security is excellent and 24/7 support is an added benefit. You also get access to outstanding online education.
The web design is very easy to use. You can make amendments in the admin section and view the results in a separate window.
Shopify integrates your point-of-sale system in the setup wizard which is really useful if you have a regular store and an online business.
Shopify Can Integrate With Third Party Apps
Shopify leads the way when integrating with third-party apps.
You do get great accessibility when designing your online store, however you can incur additional fees if you use other companies apart from Shopify for other features.
At the same time, by having the Starter plan, you won't be able to integrate apps.
Shopify provides excellent features when you build an online store.
The benefits of customer reviews, product comparisons and image zoom is great for enabling shoppers to review your products immediately on your site, so the chances of getting sales conversions can potentially be high.
Shopify provide email confirmations so that you know straightaway when you get a sale and you can track all your orders and their status.
Customers can be in contact with a Shopify customer sales person if they have any queries.
There is also a live chat feature which sets Shopify apart from other eCommerce software platforms.
Shopify Online Store Provides Outstanding Support
Shopify provides outstanding assistance and help if you need it when building your online store.
If you have any questions at all about your eCommerce store then just hop onto live chat for assistance.
You can also call and send emails to their customer service. Their online manual is really easy to understand and provides helpful explanations.
You can also get answers from visiting their eCommerce University which a huge library of articles and posts to help you build an online store.
Another great feature of building your online store with Shopify is that they offer a free 14 day trial.
This gives you the opportunity to try out the ecommerce store builder and see if you want to progress with it further.
If you do, then there are monthly price plans to suit your budget. See their price plans here.
Shopify make it very easy to get started to create your online store.
There are numerous shopping templates to chose from and your site can be up live on the web literally in minutes.
Adding products to your online shop is also made easy. This just requires a click of a button and you can add a whole range of products.
Shopify has many benefits when you build an online store. It has a very easy web design interface and for someone brand new to creating websites this is very helpful.
The security is a major plus and the support is outstanding.
If you are looking for an online store builder and ecommerce sofware then try out Shopify!