10 Frequently Asked Questions (And More)
Wealthy Affiliate are an online marketing training platform. They help affiliate marketers learn how to do affiliate marketing.
Wealthy Affiliate was created to make it easy for people of varying experiences in online marketing learn how to promote affiliate programs effectively.
Even if you are experienced in affiliate marketing you'll still gain a huge amount from joining them.
Who Typically Joins Wealthy Affiliate?

 
Anyone. Stay at home moms, students, teachers, nurses, factory workers, sales people, army personnel, doctors, lawyers etc.
Starting a business appeals to many people and if you are in a job then you may want to look at ways to work around your employment.
Maybe you have been laid of work and looking at another career path or maybe you are tired of working for someone else and want to be your own boss.
What Courses Do Wealthy Affiliate Provide?
They provide online certification courses. When you join you can start the training courses immediately. The first 10 lessons are free.
What Do They Teach?
Wealthy Affiliate teach you how to choose a niche, build a website, promote your website through search engine optimization (seo), pay per click (ppc) advertising, search engine marketing (sem) and social media marketing (smm).
Is It Easy To Learn?
You go at a pace that suits you. There's no competition. Most of the training is done through step by step video training. At the end of each session you have to complete a number of set tasks and check them off when completed.
How Many Online Certification Courses Are There?
There are currently 5.
How Much Is It To Join?
You can join Wealthy Affiliate by creating a free starter account. This enables you to trial the platform for 7 days.
During the 7 days you get access to almost everything. You can build 2 free websites on their own SiteRubix domain.
After the 7 day trial you have the option to upgrade to Premium membership. This costs $19 for the first month and you get a 59% discount.
After the first month the cost is $49 monthly. You also have the option to upgrade to yearly and save close to 40%. The cost for this is $359 for the whole year.
Is It Worth Upgrading To Premium?
It is worth it if you are going to build a successful affiliate marketing business over the long term. You can still do well with the free Starter membership but you maximize your chances of success by becoming a Premium member as you'll get access to all the courses, tools, support and community.
What Do You Get As Premium Member?
As a Wealthy Affiliate Premium member you get access to everything they have. This includes the following:
All the 5 certification courses
7 phase Bootcamp courses (promote WA affiliate program)
All the online classrooms
Live webinars
1000+ WordPress templates
Web Hosting
Buy domains
Free ssl
Free Keyword Tool
Live Chat
Customer Support
Private Messaging
How Many People Upgrade To Yearly?
Usually 1 in 12 Premium monthly subscription members upgrade to yearly.
Who Are The Owners Of Wealthy Affiliate?
The owners are Karl and Carson. They are very welcoming and easy to get access to. You can find them a lot on the live chat feature or private message them if you are a Premium member.
When Was Wealthy Affiliate Created?
It started back in 2005 so they've been around for coming up to 10 years. They are a well established company in the affiliate marketing industry.
Who Earns The Most In Wealthy Affiliate?
Well I suppose the co-owners Karl and Carson. There are also some other successful members. The actual earning figures are not disclosed so cannot provide an accurate figure.
How Easy Is It To Create Success With Wealthy Affiliate?
It can be easy. The key aspect is to follow through with all the training.
When you join you are led through a step by step training approach. By following the training this way you maximize your chances of achieving success.
Some people who join experience success quickly, others may take longer. In the end, keep in mind that the main aim of Wealthy Affiliate is teach their members how to build a solid and sustainable online business that will go on producing an income for many years ahead.
Wealthy Affiliate Community? What Is This?
What makes Wealthy Affiliate unique is that they have 1.5 million+ members. This makes for a huge community.
When you join don't be surprised if you get members of the community welcoming you. This is great for building relationships and sharing tips and advice.
Is Wealthy Affiliate Like Facebook But For Business? 
This is one of the Wealthy Affiliate FAQs I enjoy answering. :)
In some ways, the look and social media platform do have similarities to Facebook. As mentioned, there is a community look and feel about it. You can comment on peoples profiles and like what they say or share info.
You can share their content on Wealthy Affiliate or even on Facebook.
It is a "social entrepreneur" site as they like to call it.
How Does Wealthy Affiliate Compare To Chris Farrell Membership, SiteSell, Udemy, Lynda etc?
They all provide a great service and offer affiliate marketing training. Possible Wealthy Affiliate has newer content, more tools such as web hosting, domain buying and has a bigger community.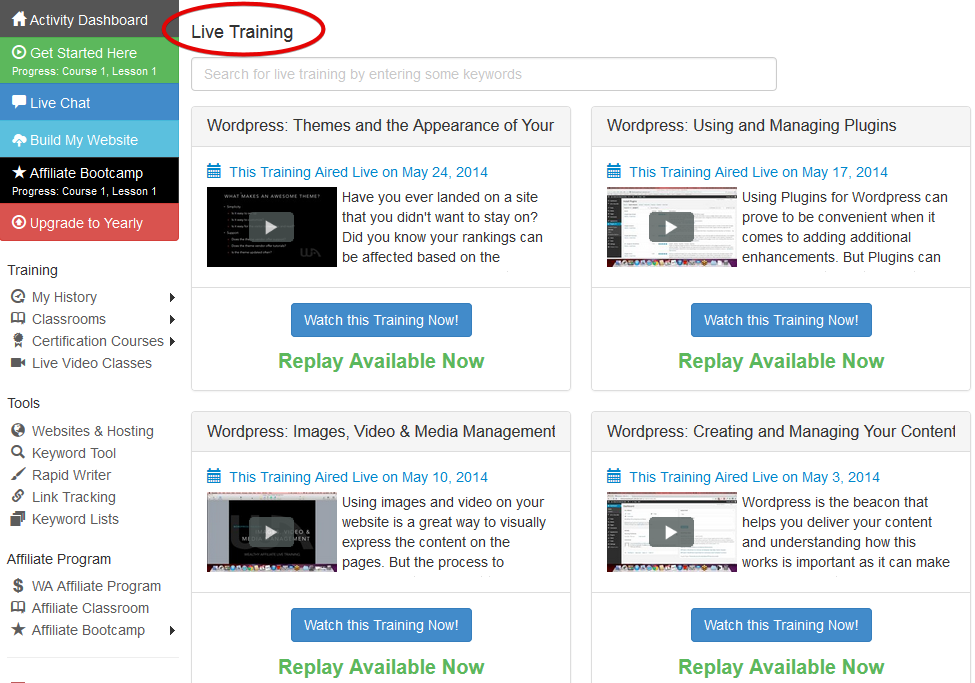 How Easy Will It Be To Cancel My Membership?
It is very easy. In your account settings you will see where to cancel. Just needs a click of a button.
How Do I Promote Their Affiliate Program?
Wealthy Affiliate has an excellent affiliate program. They provide step by step video training known as "Affiliate Bootcamp."
This consists of 7 phase courses that you go through. It is very thorough and you do learn a lot. They are rolling out new training frequently here.
From building your own blog to writing content. They show you how and where to promote your content.
How Much Do I Earn From The Affiliate Program?
Well this depends on how many referrals you sign up that go Premium. Commissions are $8 for the first month $19 special offer, then $23.50 thereafter. Starter Members earn $4 for special offer referrals, then $11.25 monthly and $87.50 yearly commissions.
When Will I Be Paid The Commissions?
Affiliates are paid commissions on the 1st of the month based on the preceding month's sales.
How Will I Be Paid The Wealthy Affiliate Commissions?
They are paid via PayPal.
How Does It Compare To Say Digital Altitude?
Take a look at the comparison chart below:
Is The Person Who Signs Me Up My Sponsor?
The person who refers you to Wealthy Affiliate will be the member who signs you up from their website. They are not your sponsor as this is affiliate marketing and not MLM or network marketing.
The person who signs you up may offer their own coaching or mentoring and may offer this to you. Most people who join Wealthy Affiliate find that there are many people within the community who offer help and guidance.
Also, Kyle and Carson are on hand frequently to provide assistance. Rest assured, you are never left to your own devices.
Is Wealthy Affiliate Worth Joining?
It really depends on you and what you own unique motivation for joining is. What is your "WHY" for joining? Only you can answer this…
Many people join to start their own business because they have been laid off work or are seeking a career change. Others just want to be their own boss or earn extra income to pay the mortgage, rent, bills, school fees, etc. Some want to become millionaires. :) Everyone's situation is unique to them.
Wealthy Affiliate provides ordinary people the unique opportunity to start an online business.
How Do I Join Wealthy Affiliate?
That's easy…click on the image below to get started now: